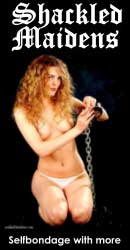 Thanks to Dave Simpson from
davesimpsonbondage.com
for the graphics.
WARNING
This site deals with adult concepts and material is of an adult nature
18+ adults only
no minors allowed
If you're not an adult either by age or mentality then bugger off
and let someone enjoy themselves
So if adult themes annoy or upset you don't go any further
Gromet's Plaza - This site is designed and intended SOLELY for ADULTS. This is an ADULT ENTERTAINMENT WEBSITE and contains content that is Adult Oriented.

Users of this site will be exposed to content of sexual nature and therefore carry the responsibility of meeting all legal requirements prior to entry.

This site may not be used by minors, under age 18 (in some areas 21), or by persons living in a community that prohibits the reception of Adult Material.

People who are at least 18/21 years old, and who are interested in and wish to have access to visual images, verbal description and stories of a sexually oriented, frankly erotic nature.

The materials which are available within this site may include graphic visual depictions and descriptions of nudity and sexual activity and should NOT be accessed by anyone who is younger than 18/21 years old or by anyone who does not wish to be exposed to such materials.

By entering this website you are making the following statements:
Under penalty of perjury, I swear/affirm that as of this moment, I am an adult, at least 18 years of age.
I promise that I will not permit any person(s) under 18 years of age to have access to any of the materials contained within this site.
I understand that when I gain access to this site, I will be exposed to visual images and verbal descriptions of a sexually oriented, frankly erotic nature, which may include graphic visual depictions and descriptions of nudity and sexual activity.
You understand that the content in this area may involve language, content and themes of an adult nature.
I am voluntarily choosing to do so, because I want to view and/or read the various materials which are available, for my own personal enjoyment, information and/or education.
My choice is a manifestation of my interest in sexual matters, which is both healthy and normal and, which, in my experience, is generally shared by average adults in my community. I am familiar with the standards in my community regarding the acceptance of such sexually oriented materials, and the materials I expect to encounter are within those standards. In my judgment, the average adult in my community accepts the consumption of such materials by willing adults in circumstances such as this which offer reasonable insulation from the materials for minors and unwilling adults, and will not find such materials to appeal to a prurient interest or to be patently offensive.
All content of this website is copyrighted by Grometsplaza, and the respective author of the material displayed on the websites. Reproduction in any way is prohibited without the expressive permission of the copyright holder and author.
Grometsplaza is not currently affiliated with any other company or organization. No inference of association or affiliation with, or endorsement by any company or organization is intended or should be inferred.
I agree, that by entering on to this website, I release and discharge the creators, owners and providers, from any and all liability that may arise from the use of this site.
You are an adult (18 years or older) and have read and understood this agreement.
All models were at least 18 years old when the pictures were taken and consented to all activities shown in the pictures.
WARNING: The images and story related texts are presented here on this website as a fantasy only and should in no way be replicated by anyone. Any attempt to reproduce any scenes presented here in text or picture form could result in serious injury or death, under no circumstances should you attempt to copy or emulate the fantasy scenes shown on this website.
Those of us that think we're adults can proceed and enjoy.