I'm sure you've already seen pictures of pony girl in the internet and was wondering about this passion and lifestyle. I think, you agree that pony girls looking beautiful especially if they wear a matching outfit. Some of the outfits are incredible, with matching leather harnesses and amazing pony boots and even gloves shaped like hooves that can be laced or locked on. This is something I would love to try one day, but first I needed to find out how to become a pony girl.
Some ponygirls have a real bridle with holder, ears and a metal 'bit' so reins can be used to command and control them. But how does it happen that a girl decides to be a pony girl and how exactly do they become a good pony girl?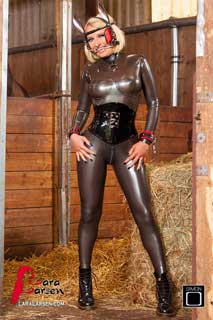 That's what I wanted to know and went on a horse farm near Cuxhaven/Germany and lived there for a day as a pony girl, kept in a stable among the hay and real horses. I had my own horse box and quickly felt comfortable, settling into my role as a sexy ponygirl.
Of course, there is for me only one true outfit for a pony girl to wear, I wanted to be really sexy as usual and took my beautiful silver latex catsuit by Simon O. I teamed it with a tight, black waist-cincher and, to match its gorgeous shine I wore patent Doc Marten boots.
But the real finishing touch for my day was the beautiful bridle from Rabenleder, which had gorgeous red detailing, so I had matching black and red cuffs buckled tightly on my wrists.
click on images for larger version
If you decide to become a pony girl everything should perfectly matching because horses are incredibly noble and beautiful looking animals and a pet girl like me want to fit in this look.
Therefore, I got my own horse box in which was quite free, at least as far as a horse is.
I'm not sure if it was because I really wanted to be a pet girl or if it was the bridle or the horse stables or maybe all the other horses but quickly I felt really comfortable.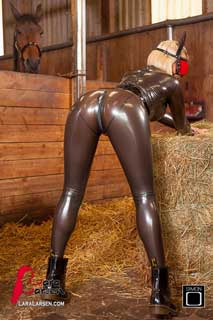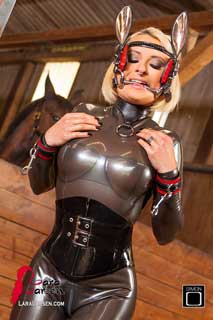 The bridle took some getting used to, I can tell you. It was buckled on my head with all sorts of fastenings and adjustments. The metal 'bit' made sure I had to keep my mouth open the whole time.
It had a long 'U' shape that pushed between my teeth over my tongue, so I couldn't talk and it made me drool, which was so humiliating (but I love humiliation like that *giggles*).
But that is what this is about for me – I give up control. I am a sexy pony, harnessed and gagged, and I couldn't even see properly as the 'blinders' on the bridle meant I could only look straight ahead.
I had no say in what happened and could just relax, feel as kinky as I want, sealed in tight latex, shiny, corseted, restricted. There are no worries for a pony girl, just obey and be a good pony. I just had to follow my orders: stand, trot, halt, and even spread my legs, touch my tits – if there is anything I am good at, it is this *giggles*.
I followed the commands. I stood still, spread my legs and bent over, and drool streamed from my mouth – I couldn't stop it with the metal bit clanking against my teeth. I presented my latex ass with the catsuit zip so inviting and I felt slutty and sexy and kinky and very, very horny.
The rubber catsuit inside the stable made me sweat, but it was the feeling of being displayed and ordered to 'perform' that made me feel hot.
The pictures with me as a pony girl came one hand by my curiosity to do and feel something new but otherwise it was a good feeling to drop everything and hear on myself and be as kinky as I want. It fulfils my life to be completely wrapped in latex and just let me relax.
There is no worry or trouble because someone cares about the little pony girl. I have just one task: Obey and be a good pony girl. Take the order to stand; spread legs touch tits or anything like this. And if I'm good with something then it is this!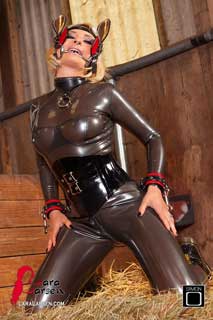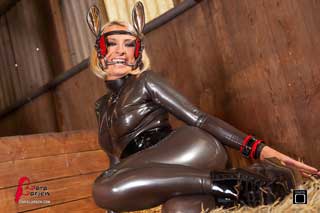 Now, I don't want to bore you with details because you have for sure already seen first pictures with me wearing a harness with pride and how I enjoy my cozy little box.
Especially, if I wear a lot of latex my world is simply perfect and I really feel good and maybe I can tell you later a little more about pony girls. In fact, I was not the last time at the horse farm for doing a good pony girl training. It was like holidays to be there around the animals me right in the middle – that was seriously relaxing and fantastic.
I loved being a ponygirl, sealed in tight rubber and shiny boots and it has not been the only time I have been to the farm for pony girl training It was like a holiday to be there with the animals, and me right in the middle of it all, on display in rubber. I loved it. I hope you love my pictures and the video.
So come with to the farm and let yourself be impressed by the photos and video of me in the pony girl training. It's more than you think and if you have questions just ASK me and maybe I can give you one or two notices. Finally, I have now already received my first big lesson as a pony girl and think I can tell you a lot more about the day.
If you'd like to see more of Lara as a PonyGirl or even just looking great in Latex, head over to her site: Lara Larsen
You can also leave feedback & comments for this story on the Plaza Forum
14.07.16