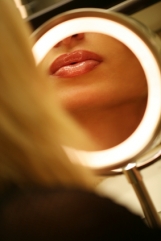 TG fiction are stories and fantasies about the transformation of people into the other sex, by cross-dressing, feminization, transexual body modification or transgender lifestyle.
Cross-dressing is the wearing of clothing commonly associated with the opposite gender than the one usually presented by the dresser.
Transgender are people who wanted to live cross-gender without sex reassignment surgery.
Transsexualism in which an individual identifies with a gender that is different from their biological one.
Most CD/TG/TS stories share a few characteristics, fantasies depicting characters being transformed from one sex to the other. Other stories explore forced cross-dressing or feminization through malice or blackmail. They involve scenes of humiliation and submission.
The transformation can be non-consensual, with the transformer often becoming confused, scared, or angry as the changes take place, although some transformations are gladly accepted and even chosen by the individual.
Latest Stories
295 Stories
Recent Stories
A New Spin on Role-Playing Games 3Shawna Summers

M/t; F/t; M+/t; M2f; cd; fem; group; sissy; costume; oral; anal; mast; hum; buttplug; strapon; crop; bond; cuffs; chastity; sex; urine; cons; XX
14.05.23

It's Good To Be The Queen 3: Next Daybentbliss

F/mf+; M/f; M+/mf; bond; chastity; cd; M2f; rope; hogtie; oral; gag; cell; punishment; naked; mast; buttplug; hum; urine; cbt; pegging; cuffs; collar; public; cons; reluct; XXX
19.03.23

Dressed for a Trick, or a Treat 3Shawna Summers

M+/m; chastity; buttplug; oral; anal; bond; cd; maid; costume; hum; cons; XX
23.01.23