To this special 2010 All-Hallows edition of the plaza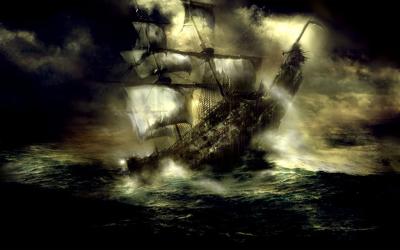 As the mist begins to clear, there through the fog of time comes the ship, it's crew long gone and forgotten...
The ghost ship they call it, only visits one a year at all-hallows, it's precious cargo of tales from beyond the grave only seen by mere mortals during this time...
The timbers creak as the ship draws nearer, it's masts clearly visible, it's sails torn and tattered, the ship pulls beside the dock and the gangplank falls down...
Now it's time for you to enter if your dare, what will await you beyond this portal, tales that will make the hair stand on end, send shivers down your spine and make your hair turn white...
Be warned, don't stay too long as the ship may leave with you on board, destined to sail the black waters for all eternity...
Whatever you do, don't read these stories alone... and beware the creature under the bed, he may steal your vibrator!
Avast ye land lubber !
On to the stories....
Click on the header links below to check out the stories

Stories that are Bound to entrap you, keep you tied up for hours...

Be fore warned ye mere mortals, venture into this dark area at your own peril. Beware the Goblin and other Ghouls that will attempt to steal your very soul!

Still not scared enough! Want to see last years Halloween stories, don't say you weren't warned!
Halloween 07 | Halloween 08 | Halloween 09 | Halloween 10 | Halloween 11 | Halloween 12 | all halloween stories