To this special 2012 All-Hallows edition of the plaza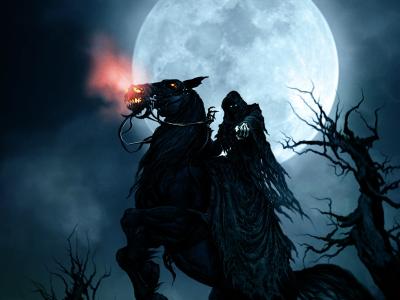 You're walking through the woods, it's All-Hallows Eve...
You hear a sound in the distance, it sounds like distant thunder...
The sound starts getting closer, the air begins to chill...
Your heart starts to beats faster, your mouth begins to dry...
The sound of hooves beating the ground gets closer and seem to be heading towards you...
Alone in the forest, the full moon rising above, only a fool would venture here at night...
You feel a throbbing in your chest, your heart beats to the sound of the horse's hooves...
Suddenly there appears before you a rider atop a huge black horse, it's eyes burning red coals, flames flare from it's nostrals..
You look up at the rider and see it's skeleton hand pointing at you...
You look closer at the head carried in it's other hand, only to realise that's it's yours!
Too late , it's the Grimm Reaper come to take you to the Halloween Special Edition of the Plaza
On to the stories....
Click on the header links below to check out the stories

Stories that are Bound to entrap you, keep you tied up for hours...

Be fore warned ye mere mortals, venture into this dark area at your own peril. Beware the Goblin and other Ghouls that will attempt to steal your very soul!

Still not scared enough! Want to see previous years Halloween stories, don't say you weren't warned!
Halloween 07 | Halloween 08 | Halloween 09 | Halloween 10 | Halloween 11 | Halloween 12 | all halloween stories