To this special 2013 All-Hallows edition of the plaza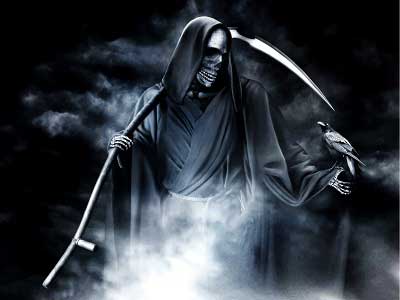 The sky is dark and foreboding, the moon is full lighting the way ahead, you can see in the trees a bird observing your every move...
You wonder what the bird is up to as it darts from branch to branch, tree to tree, keeping up with your walking pace...
The bird moves silently through the night, it's shadow silhouetted by the full moon...
Your footsteps echo thru the woods, you think to yourself why did I venture out on All-Hallows Eve...
Every snap of a twig, every wisp of the wind thru the branches, the very air that you breathe, all combines to the feeling of unease, your senses now on high alert...
All of a sudden the place falls silent, not a sound, no animals or birds - just a distinct chill in the air, you look up and discover the bird has gone - but to where you wonder...
Unbeknown to you the bird has gone to it's master telling him of your whereabouts, the very master that ventures out on nights like these, a soul collector and soon yours will be the latest addition...
Run while you still have a chance, get home and enjoy the Halloween Special Edition 2013.
On to the stories....
Click on the header links below to check out the stories

Stories that are Bound to entrap you, keep you tied up for hours...

Be fore warned ye mere mortals, venture into this dark area at your own peril. Beware the Goblin and other Ghouls that will attempt to steal your very soul!

Still not scared enough! Want to see previous years Halloween stories, don't say you weren't warned!
Halloween 07 | Halloween 08 | Halloween 09 | Halloween 10 | Halloween 11 | Halloween 12 | all halloween stories